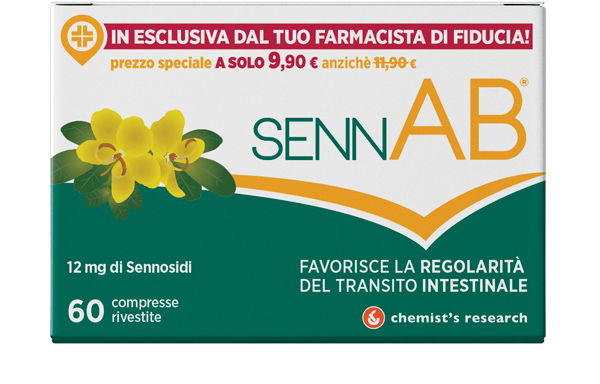 60 Tablets
Code price: 11,90 €
A disordered diet lacking in fiber, stress, a sedentary lifestyle can alter the balance of intestinal functions. SennAB, a Senna based food supplement, promotes regularity.
MEDIA ANALYSIS BY TABLET
Senna e.s. 60 mg di cui Sennosidi 12 mg
SENNAB IS CHARACTERIZED BY THE LARGE DEGREE OF PURITY AND CONCENTRATION OF USEFUL SUBSTANCES FOR INTESTINAL MOTILITY, BETWEEN THEM SENNOSIDES A + B REMAIN INTO THE STOMACH AND IN THE LITTLE INTESTINE THEN PERFORM THEIR STIMULATING ACTION IN THE COLON, ACTIVATED BY THE BACTERIAL FLORA
MODALITÀ D'USO
2-4 tablets per day.