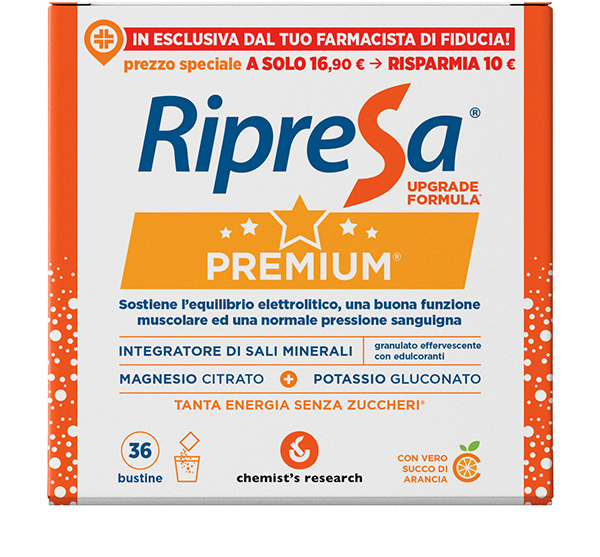 Ripresa Premium
36 Sachets of 6 g
Code Price: 26,90 €
WITHOUT SUGARS • GLUTEN FREE • NATURALLY FREE OF LACTOSE
Food supplement of mineral salts with MAGNESIUM CITRATE, POTASSIUM GLUCONATE and L-ASPARTIC ACID. Compared to Ripresa (traditional formula) it contains a higher concentration of Magnesium, Potassium and L-Aspartic Acid.
AVERAGE CONTENT

for 1 sachet

for 2 sachets

(maximum dose)

% VNR

(for maximum dose)

Magnesium

225 mg

450 mg

120

Potassium

300 mg

600 mg

30

L-Aspartic acid

430 mg

860 mg

–
%VNR: Reference Nutritive Values (Reg.CE 1169/2011)
HOW TO USE
From 12 years upwards 1 sachet per day up to a maximum of 2 sachets.