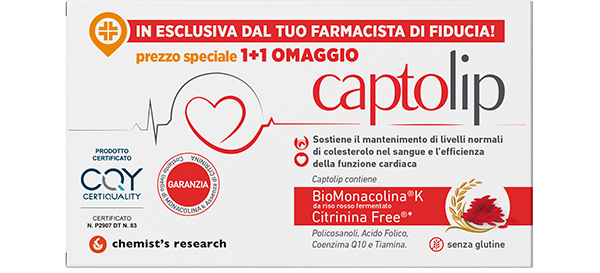 Captolip
24 Tablets
Code price: 24,00 €
Speciale price: BUY 1 GET 1 FREE
GLUTEN FREE • CITRININE FREE®
Captolip contains BIO MONACOLINA®K from red fermented CITRININA FREE®* rice, Policosanoli, Folic Acid, Coenzyme Q10 and Thiamine, specially formulated to support:
HEART HEALTH: Thiamine and Folic Acid respectively support the efficiency of cardiac function and the regular metabolism of homocysteine.
AVERAGE CONTENT

for tablet

% RNV / tablet

Citrinine free fermented red rice
®*

with Monascus purpureus tit. 3% in Monacolina K

333,4 mg

–

equal to BioMonacolin®K

10 mg

Polycosanols

10 mg

–

Coenzyme Q10

2 mg

–

Thiamine (Vit. B1)

1,1 mg

100

Folic Acid

200 mcg

100
%RNV: Reference Nutritive Values (Reg.CE 1169/2011)
*Citrinina < a 50ppb
CERTIQUALITY Certified Product
BIOMONACOLINA® K • CITRININE FREE®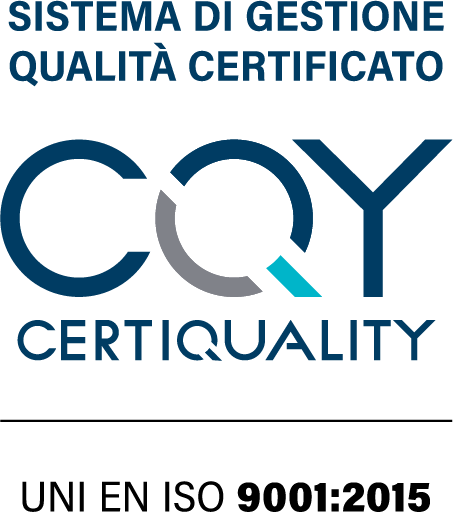 THE ADDED VALUE DERIVING FROM THE PRODUCT CERTIFICATION IS REPRESENTED BY THE FOLLOWING GUARANTEES OFFERED TO THE USER:
Captolip contains a constant level of Monacolin K (functional component)
Captolip does not contain Citrinina;
Measurements, tests and verifications are carried out by Certiquality, an independent third party, by means of analysis.
METHODE OF USE
1 tablet per day.