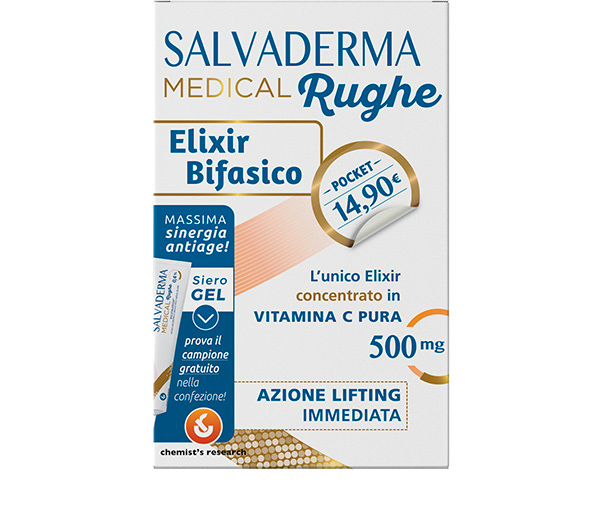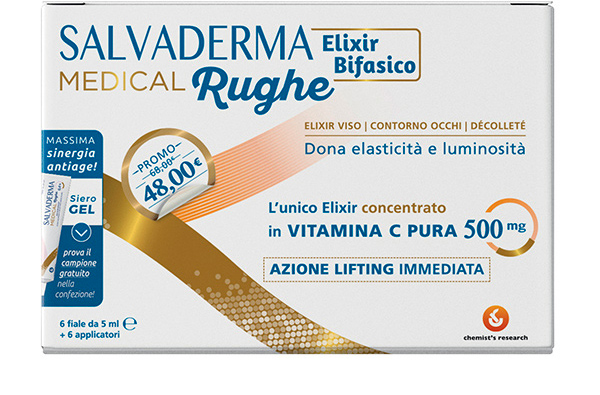 SALVADERMA
MEDICAL WRINKLE

ELIXIR BIPHASIC
1 Vial of 5 ml
Code price: 14,90 €
6 Vials of 5 ml
Code price: 68,00 €
The antioxidant action of VITAMIN C fights free radicals by counteracting the imperfections of skin aging. The presence of SODIUM HYALURONATE promotes the hydration of the skin in combination with a polysaccharide extremely similar to the skin. The presence of plant extracts such as Green Tea, Red Vine, Echinacea, Centella and Ginger, in addition to strengthening the antioxidant action, contribute to the physiological cutaneous well-being.
COMPOSITION:
Solid phase: VITAMIN C PURE 500 mg
Liquid phase: HYALUSACCARIDE ® Hyaluronic acid active complex + natural polysaccharide + plant extracts.
VITAMIN C PURE CONCENTRATE 500 mg
ILLUMINA, REPLACES AND STRENGTHENS THE DERMA, HYDRATES
BIPHASIC SYSTEM: patented packaging that allows you to store pure Vitamin C separated from the liquid solution until it is first used.
The Biphasic Elixir prepared at the time of its use keeps the properties of Vitamin C unchanged and at their maximum capacity.
METHODE OF USE
Use once or twice a day. Pour a few drops directly on the face or on the fingertip, then proceed to spread the product by exerting a light massage until normal absorption.