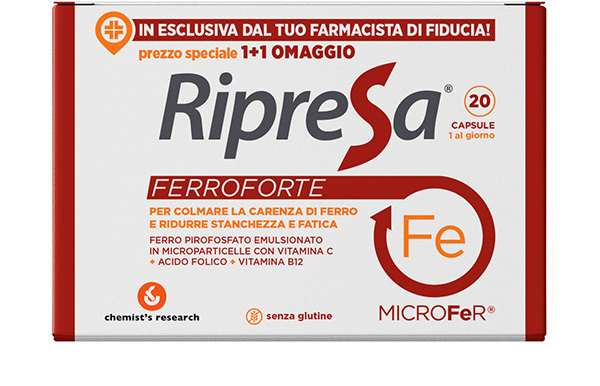 Ripresa Ferroforte
20 Tablets
Code price: 24,00 €
Special price: BUY 1 GET 1 FREE
FERROFORTE RECOVERY CONTAINS:
MICROFER® Iron pyrophosphate emulsified in microparticles. With vitamin C;
VITAMIN C Increases the absorption of iron;
FOLIC ACID Contributes to normal hematopoiesis (formation of blood cells);
VITAMIN B12 Contributes to the formation of red blood cells.
INDICATED TO SUPPORT:
Normal formation of red blood cells (Folic Acid, Vitamin B12) and hemoglobin (Iron);
The physiological transport of oxygen in the body (Iron);
Reduction of tiredness and fatigue (Iron, Vitamin C, Folic Acid and Vitamin B12);
Deficiencies in cases of insufficient intake with the diet or increased needs.
AVERAGE CONTENT

for capsule

% RNV / capsule

Iron

30 mg

214, 3

Ascorbic acid (Vit. C)

70 mg

87,5

Cyanocobalamin
(Vit. B12)

2,5 mcg

100

Folic acid

200 mcg

100
%RNV: Reference Nutritive Values (Reg.CE 1169/2011)
ACTIVE MICROFeR PRINCIPLE®:
super dispersion process (the smaller the particles, the more the absorption increases)
COMPLETE FORMULA:
MICROFeR ® + Vitamin C + Folic Acid + Vitamin B12
HIGHER BIOAVAILABILITY
WITHOUT SIDE EFFECTS
WITHOUT FAVORABLE TASTE
METHODE OF USE
1 capsule per day.