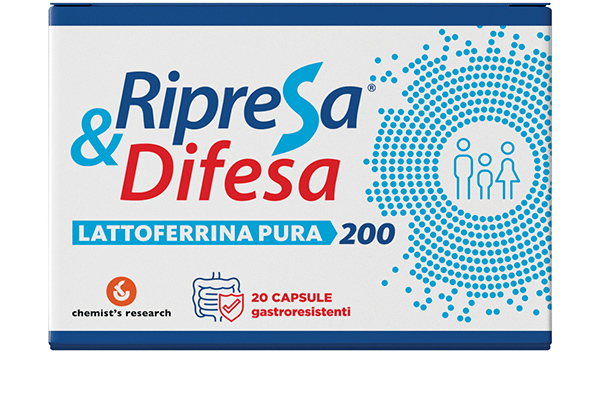 Ripresa & Difesa Lattoferrina Pura 200
Natural molecule present in breast milk which represents one of the main defenses during the first months of life of newborns, when not yet vaccinated.
PURITY
Microfiltration allows to obtain extremely pure lactoferrin and to preserve the characteristics of the protein.
EFFECTIVE DOSAGE
Lactoferrin 200mg/capsule.
OPTIMAL BIOAVAILABILITY
The bio-resistant capsule transits unharmed into the stomach to release its contents in the intestine, thus lactoferrin is degraded by the gastric juices, remaining intact to fully carry out its beneficial action.
INDICATIONS
Lactoferrin supplement formulated specifically to support the body in cases of increased need.
METHOD OF USE
We recommend taking 1 capsule per day.
WARNINGS
Keep in a cold and dry place. The packaging date refers to the product in intact packaging, properly stored. Keep out of the reach of children under three years of age. Supplements are not intended as a substitute for a varied and balanced diet and a healthy lifestyle. Do not exceed the recommended daily dose.
PACKAGING
20 capsules of 500 mg