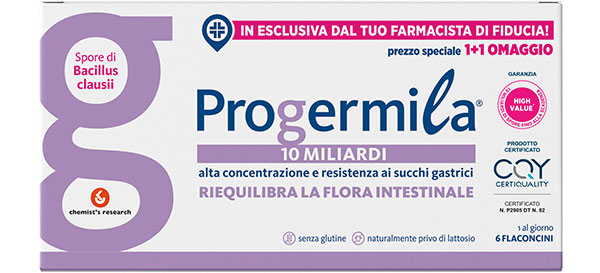 6 Vials
Code price: 15.90
Special price: BUY 1 GET 1 FREE
GLUTEN FREE • NATURALLY LACTOSE FREE
Progermila 10 BILLION, vitamin B food supplement with a high concentration of Bacillus clausii spores (10 billion per vial), rebalances any changes in the intestinal microflora due to antibiotic therapies or eating disorders.
AVERAGE ANALYSIS

per dose

(1 vial)

% VNR / dose

Pantothenic Acid (vit. B5)

1,80 mg

30

Pyridoxine (vit. B6)

0,60 mg

42,9

Riboflavin (vit. B2)

0,48 mg

34,3

Nicotinammide (vit. PP)

5,40 mg

33,8

Cyanocobalamin (vit. B12)

0,75 mcg

30

Thiamine (vit. B1)

0,33 mg

30

SPORE CONTENT

Bacillus clausii UBBC-07*

10 billion
%VNR: Reference nutritional values (Reg.CE 1169/2011)
*bacterial strains registered by the MTCC Institute
Product certified CERTIQUALITY
HIGH VALUE® 5 billion vital spores until the expiration date
THE ADDED VALUE DERIVING FROM THE PRODUCT CERTIFICATION IS REPRESENTED BY THE FOLLOWING GUARANTEES OFFERED TO THE USER:
The spores of Bacillus clausii contained in Progermila have a guaranteed validity up to the declared expiry;
Measurements, tests and verifications are carried out by Certiquality, an independent third party, by means of analysis.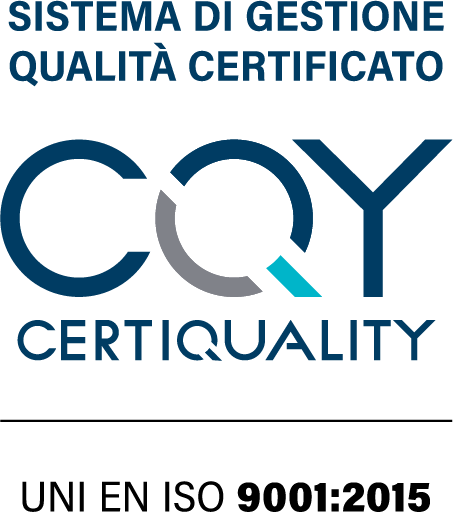 HOW OF USE: 1 vial per day.