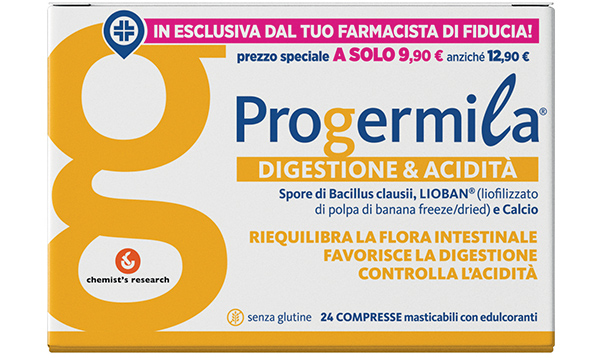 PROGERMILA
DIGESTION E ACIDITY
24 Tablets
Code price: 12,90 €
CHEAP TABLETS BANANA FLAVOR
Calcium
It acts as a coenzyme activating the function of the main digestive enzymes.
Gastroresistant Bacillus clausii spores
They are able to improve the composition of the gastric microbiota and normalize bacterial proliferation in the stomach.
ACTIVE

per maximum daily dose

(6 tablets)

% VNR / dose

Bacillus clausii (spore)

3 billions

–

LIOBAN® (freeze-dried banana pulp freeze/dried)

600 mg

–

Calcium

720 mg

90
%VNR: Nutritional Reference Values (Reg.CE 1169/2011)
MODE
1-2 tablets as needed up to a maximum of 3 times a day, well chewed or sucked.