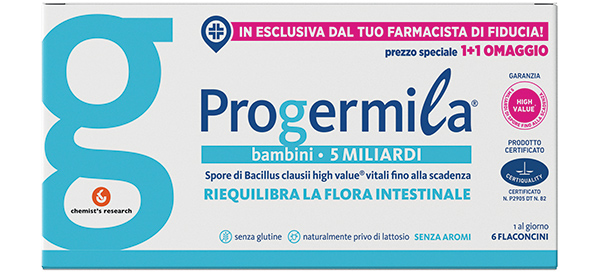 PROGERMILA
CHILDREN 5 BILLION
6 Vials
Code price: 14,90
Special price: BUY 1 GET 1 FREE
GLUTEN FREE • NATURALLY FREE OF LACTOSE • WITHOUT AROMAS
Progermila 5 BILLION, food supplement of B vitamins with a high concentration of Bacillus clausii spores
(5 billion per vial), balances the alterations of the intestinal microflora due to antibiotic therapies or eating disorders.
MEDIA ANALYSIS

dose

(1 flaconcino)

% VNR / dose

Pantothenic acid (vit. B5)

1,80 mg

30

Pyridoxine (vit. B6)

0,60 mg

42,9

Riboflavin (vit. B2)

0,48 mg

34,3

Nicotinamide (vit. PP)

5,40 mg

33,8

Cyanocobalamin (vit. B12)

0,75 mcg

30

Thiamine (vit. B1)

0,33 mg

30

CONTENT IN SPORE

Bacillus clausii UBBC-07*

5 billion
%VNR: Reference Nutritive Values (Reg.CE 1169/2011)
*stock deposited at the MTCC Institute
CERTIQUALITY Certified Product
HIGH VALUE® 5 billion vital spores until expiration
HOW TO USE: 1 vial per day.