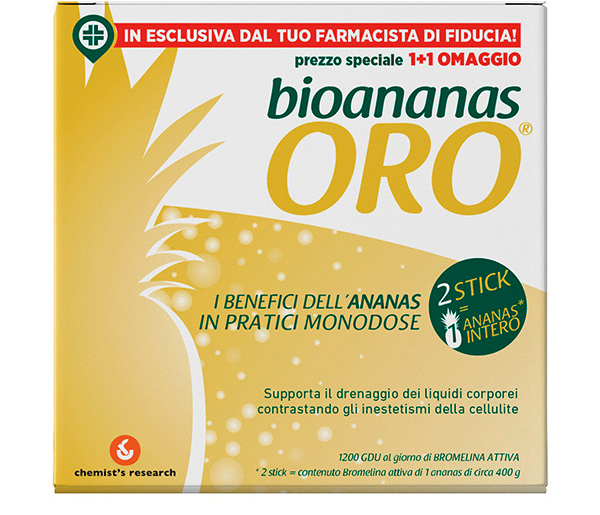 Bioananas Oro
30 single-dose 10 ml sticks
Code price: 29,90 €
Special price: BUY 1 GET 1 FREE
GLUTEN FREE • WITHOUT DYES • WITHOUT GMO • NO ADDED SUGARS (naturally contains sugars)
Bioananas Oro is a dietary supplement based on PINE JUICE OF BRANCHEL CONCENTRATED with certified bioactivity of 600 GDU for single-serving sticks. The daily dose of 2 sticks provides the amount of Bromelain contained in a whole pineapple (considered an average fruit of 400 g).
Irrelevant caloric content: 3 Kcal for single-dose sticks.
AVERAGE CONTENT

for daily dose (2 stick)

Bromelain
(2500 GDU/g)

480 mg of Bromelain
1200 GDU

Pineapple juice

160 mg
SUPPORTS THE DRAINAGE OF BODY LIQUIDS CONTRASTING THE CELLULITE IMPRESSIONS
1200 GDU per day of ACTIVE BROMELINE
2 STICK = ACTIVE BROMELINE CONTENT OF 1 PINEAPPLE OF ABOUT 400 g
MODALITÀ D'USO
1 single-dose stick 2 times a day.